Building the garage at Western View… was a blast.
I had the time of my life.
There is nothing like building a small structure out of huge timbers. The opportunity to do something like this doesn't come around that often, so I did my best to savor every moment of it. I often reminded the crew that "these are the good old days". And I was right, they were indeed.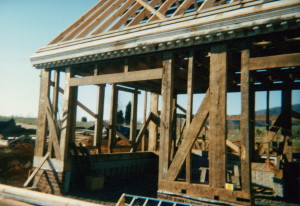 We made use of not only the old timbers from the Franklin home, but also the dental moldings, siding, and windows. The garage is a work of art… I swear it.
We enjoyed also the view of the Western View frame going up… the only time in my career where two different framed buildings were going up at the same time!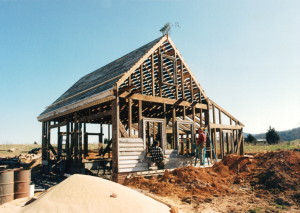 One last comment. Having a finished garage on site all during the construction of the house was a tremendous asset. It was our workshop, our dry storage, and our refuge when storms sprung upon us.
Originally posted 2015-02-26 15:32:16.