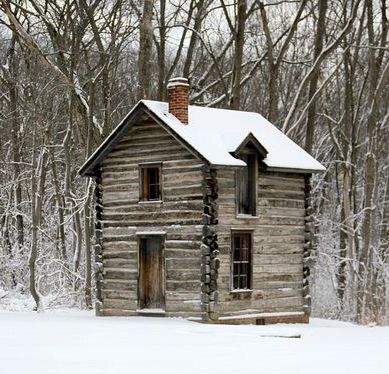 For decades now, many have praised the design work of the homes I have built.
For the record, I'm no artist (although the title is flattering).
I've always looked to the past for inspiration, that's where I get my design ideas from. That's when homes were built from natural materials and blended in with the landscape.
I've done my best to create "rules" or guidelines in what makes a home attractive. Why is it that these vintage treasures are so attractive? They looked good back when they were built a century or two ago and they look even better today. Who can say that of anything built in say the 1970's (or now)?
I've managed to come up with quite a few characteristics in what makes a home attractive, but every time I think I've come up with something that is absolute… I find that there is an exception to the rule… which sort of makes it "not a rule" doesn't it?
Anyway, just take a look at this beauty of a home… The door is off the end of the cabin, and not the front. The windows on the front are slid to one side, and just look at how big that second floor window is… it goes up into the roof! And the brick chimney top that's poking through the roof… why, I never. lol
But she is precious isn't she?
I can think of no new home built in my area that compares to the simple beauty of this place.
She breaks all the rules.