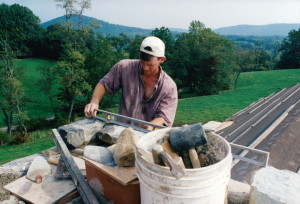 Have you ever wondered what it would be like to be a stone mason? maybe even, during his "glory moment"? To be up at the top of a chimney after many weeks of hard work and struggle… about to complete something that will stand for centuries?
Of course you have. 🙂
These five photos (all taken at the same time) pretty well showcase life at the top of a chimney.
First notice that there is the ladder, a big part of being a stone mason is the climbing, up and down. Over and over. Always while carrying something heavy… tools, stones, or mortar.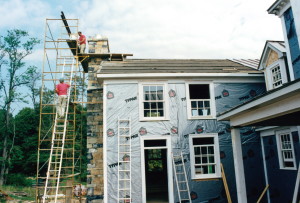 Once you are up there at the top the views of the surrounding countryside, and all the jobsite activity, are amazing. You are on top of the world.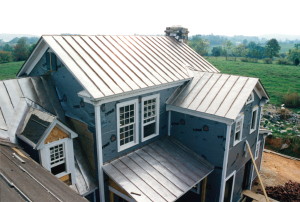 It's time to get to work though… there is the constant checking of each stone to make sure that everything is plumb and level. Each stone is laid with as much care up here as it is down below. No one else would ever know if something was a bit off… but the masons would know… and so, it is done right.
There is plenty of activity going on up here as the final shaping of each stone takes place to get it to fit just right. While here you stand on a narrow walkboard rock chips fly past you, sometimes striking you, adrenaline is flowing.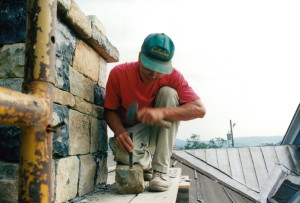 The conversation is often jovial, each man boasting of how good they are at what they do.
One of the greatest benefits of working with stones all days is that you get to wear whatever kind of hat you want… no one would dare insult a mason on his choice of hat. A mason is after all a walking muscle. A man that can hit you with a rock at anytime from high above. A man that swings a heavy hammer for a living.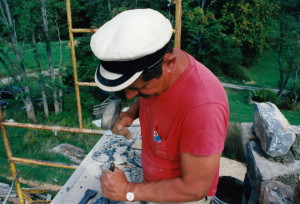 All three of these men became dear friends of mine over the years of working together. Dan, seen here with his captain hat, passed away from cancer a few years ago… I can still hear him singing one of his old Irish tunes. Will, the man with the level, surprised us all and is now a member of the clergy in the Episcopalian church. And Stewart… he works in the local zoning office… he says its' much easier on his back. Of that, I have no doubt.
For many years I was the only area builder who kept a full-time crew of stone masons. I loved to see their work on a daily basis. I loved the sounds that were always present in the background… of chisels being struck with hammers, but most of all I just liked having friends around me who enjoyed working with their hands.
Originally posted 2015-02-27 15:33:33.