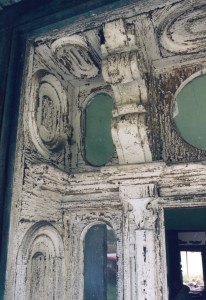 Here's a photo showing some of the details on the front door unit out of the "catalog house"… at least I'm guessing it was a catalog house… I found no actual proof or record.
I've read that Sears, Montgomery Ward, and other firms sold homes through their mail order departments. And, that part of those package offerings were highly-machined intricate pieces of woodwork.
It's a fascinating concept, that for a period in time in American history, very elaborate trim details were the thing to have. It was fun to dip my toe into this period, just once.
The focus of my work has always been on homes built prior to the Civil War where all the parts of a house were not only built on site, but were made on site, and often the raw materials were harvested on site… trees were cut, stones were gathered, and bricks were made.
And men were men.
Originally posted 2015-02-12 14:00:18.