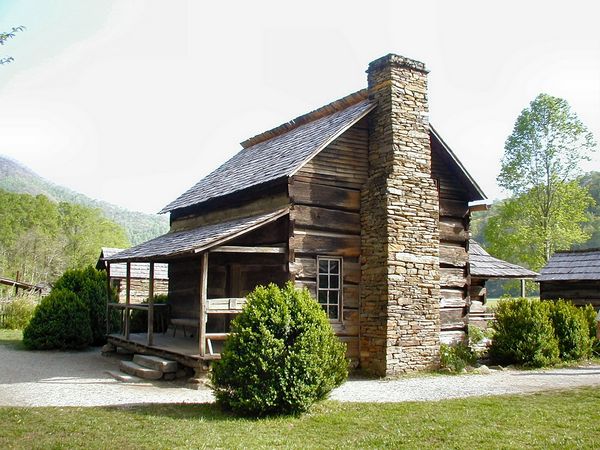 You've got the perfect piece of land.
And, the ideal set of plans, plus a good selection of quality materials. Life is good.
But, what is the single most important skill that you can practice going forward in the construction of your dream home?
Today I'd like to share with you the importance of the daily practice of "standing back and taking it all in".  I perform this ritual every single day when I'm building a home. It only takes a few minutes of my time, and it is such an important activity in order to achieve the best home that I can build.
You see, when a person builds a home they are always focused on the task at hand… what's directly in front of them, and it's easy to lose track of the big picture.  We are building a home after all and one day all these parts we are working on will blend together and become a house.  Yes, today we might be trying to achieve the perfect notch on that log cabin corner, but we must not lose track of the fact that what we are truly doing on any given day is building a home.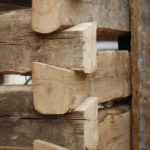 There seems to be an inner resistance to performing this simple act of "taking it all in". Over the years I've had many apprentices who I've attempted to teach this simple lesson to. Most have expressed confusion, and a bit of frustration, at having to stop what they were doing to take a small walk with me (some were likely concerned the boss was going to do some firing that day and were fearful of being pulled away that they might be the one).  In the end, after explaining this to hundreds, only one or two of these craftsmen ever picked up the habit, or truly understood or appreciated the value of this act.
And so, dear friends, the responsibility of doing this falls on the builder… which means you if it's your own home. Perhaps, if you have had the good fortune of finding a good builder, one who not only has the ability of assembling a house, but also has a keen design eye, you will have someone to share this responsibility with, but even so don't assume someone else is doing it.
Let me tell you how to "stand back, and take it all in".  It's not a sprint where you will run out a ways, give the house a glance, and then run back. Instead pause for a few minutes and look at the home as if you were seeing it for the first time (it's time to smoke 'em if you got 'em). Likely if you pause the proper amount of time you'll reach a point where someone will ask "What are you doing out there?" (they will think that you need to stop slacking and get back to work). Let me emphasize the point of this exercise… this stand-off time is not an excuse to admire your work, it's a time to be critical and ask questions… "is that the best size window to use?, is that its' best location?, should I even have a window there? does the trim look too big, or too small?" Now, if the answer to all your critical questions are positive, well, then you can turn the moment into a private award ceremony, a pat-yourself-on-the-back event. Have at it… you deserve it.
This process of long distant oversight can help you so much in solving issues before they become problems and in answering questions you never thought to ask.  But in all likelihood, this process will on occasion become a discovery event for problems that have already occurred, things that should have been done a better way. "That trim board around the porch floor looks too wide… eight inches would look much better than ten". You could have caught it easily before it was finished by simply tacking a board up and then standing back to see how it looked before nailing it in place, but the focus and drive was on the work, on getting it done, and no one bothered to step back and see it as part of the whole.
A carpenter had put a lot of hard work into installing this "too wide" trim board. His (or your) craftsmanship was excellent. The plans clearly show that the correct material was used. And that same carpenter (or you) is going to be less than pleased to tear it all of off and do it again, and to top it off, it's going to cost you precious money, effort, and time to make it right.  Most people will fold, let it slide, and live with it.  Unfortunately there will likely be other discovered issues that will come up later on and it will tempting to also "live with it" and the end result will be that the finished home will be somewhat disappointing and those items that were given the pass. will be there to irritate and remind the builder of his failings for many years to come.
Don't be that builder.
Be the builder with the sharp eye. The one who not only focuses on quality work and special details, but also the one who steps back regularly to see the entire home. Do this often and prevent problems before they occur, and when disappointments are discovered don't be afraid of undoing something and redoing it properly, while the opportunity is there.
When in doubt on making a decision, choose to do it right.
Do this, and I promise you, you will love that finished home.
And so will everyone else.
(this advice is just a taste of what you will discover in the full Handmade House Academy which will be released soon… make sure and sign up to be on our newsletter if you are interested in learning more)
Noah