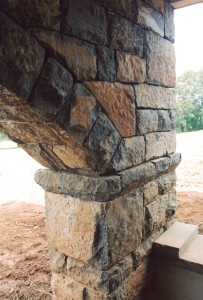 One last photo to share from the barn/home project. Remember those arches that are so prominent in the photos of the front of the house? Here's a close-up photo showing the workmanship that went into building those features.
Every one of these stones was created by very talented men, each with a hammer, a chisel, and lot of strength. These are not glued-on stones like you find in shopping centers, but solid rock that will last millennia.
I just love good stonework. Can't you tell?
Originally posted 2015-02-13 13:46:28.