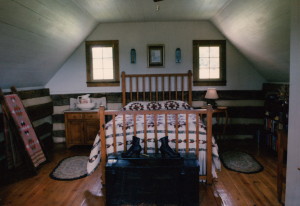 Most small vintage log cabins were built with short "knee walls", generally there were only two courses of logs above the second story flooring, in other words… about two feet tall. I like to add a couple more courses of logs when I rebuild these antique cabins giving the homeowner four foot knee walls. This allows furniture to be put along the outer walls and creates a much more practical and spacious room. It also creates a taller, more attractive, profile for the exterior of the cabin. Notice also the painted paneling we used on the ceiling (so much better than drywall).
What do you think of this guest bedroom?
Originally posted 2015-01-28 19:20:41.