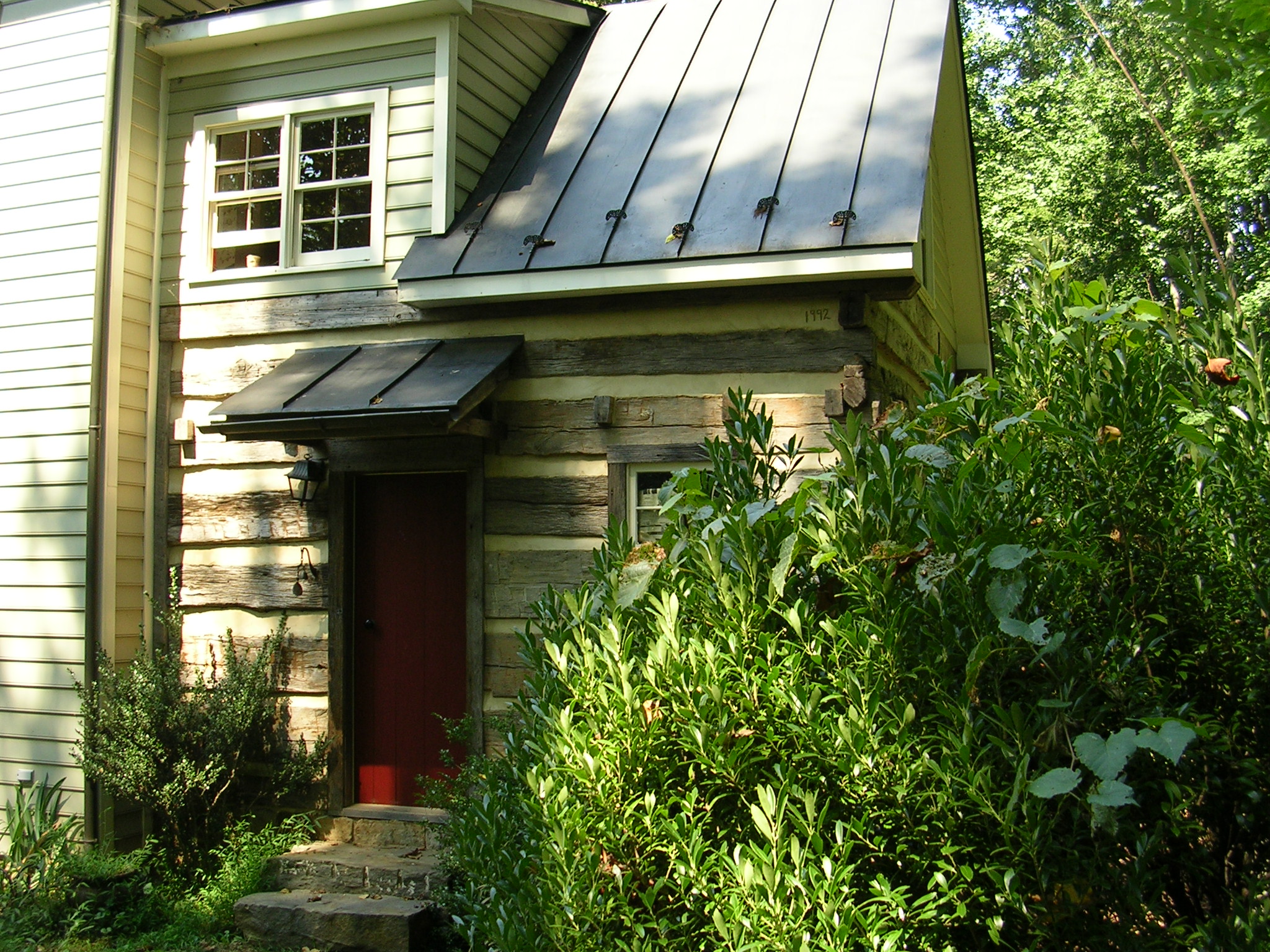 Here we have a home with a log cabin attached to it's end as an addition.
This home is dramatically improved by having part of the home being of log construction don't you think?
But, there is something unique and unusual about this cabin. Can you see it?
I have seen many hundreds of people tour these home and not one has ever commented on its "uniqueness". (much to my surprise)
What makes this cabin unique is that it  is a three sided cabin.
No one has ever once upon touring the home has noticed that it was three sided! … why is that?… and, are their advantages to having a three sided cabin?
Quite often when an old log cabin is taken down to be later used again when building a new home we are faced with a shortage of logs. Without fail there are generally a few logs that are damaged due to rot or insect damage. Also, old log cabins tend to have low ceilings so building back a taller cabin is often desired, so once again, we need more logs (or a creative alternative).
Sometimes vintage logs can be found to make up for the shortage, sometimes not. One way to get around this issue is to build a three sided cabin and attach it to a larger structure (It doesn't have to be much larger, just somewhat bigger).
There are financial savings in taking this path due to not having to find and buy more logs, and the cabin is often nicer due to a now abundant supply of logs, and there is also a huge savings in labor in that only two corners of the cabin now need to be notched. And, to top things off,  this type of cabin is easier to attach to another structure.
The "missing wall" of a three sided cabin is easily replaced visually with some combination of a fireplace, a doorway or opening into the cabin, or perhaps a closet, built-in shelves or cabinetry, or the creative use of old paneling.
Three sided cabins are historical… there is nothing new about them… I've seen them many times, but yet for some reason I've never been able to convince anyone to buy one when set up like the ones seen in these photo below… but… I have found that every time I've ever built a house using this method that people love them, and never once has any one noticed "the missing wall" or failed to love the cabin.