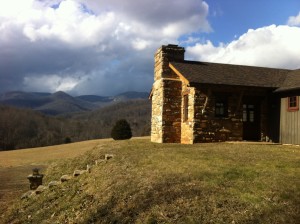 I have designed and built several stone cottages over the years. This one is on a hillside in Madison County, with spectacular views.
This home pulled me in a new direction, and I appreciate that, after all, no one wants to be stuck in a rut. We all know that we learn and grow with new experiences.
Anyway, back to the story of this structure…
This client wanted a small stone home built on his property in which he wanted zero bedrooms… none at all. That got my attention.
He was an outdoors-man and intended to sleep outside in a tent whenever visiting the property… visitors and guests would do the same. He wanted this stone cottage to handle all the other rooms of a house that we have come to enjoy… baths, kitchen, laundry, etc, and a large gathering room with massive stone fireplaces at each end and a wall of windows to take in the breathtaking view.
I clearly remember the struggle I had with getting a building permit for this home. I was the first and only builder to request a zero bedroom home permit. Government officials like to check every box, and there was no box for something so unique. (I've always enjoyed being an "out of the box" kind of guy).
The success that I have achieved in creating beauty in the majority of my projects has been by basing the the designs on historic structures (yes, I am a copy cat, and proud of it). I broke that "historical pattern" here on this home when I learned that the client had spent his career working for the National Park Service. I dug through many books written on the various structures that one would find in our national parks and this "look" is what I came up with.
I'll post other photos this weekend showing some of the details . I look forward to hearing your thoughts.
Originally posted 2015-02-13 15:22:51.