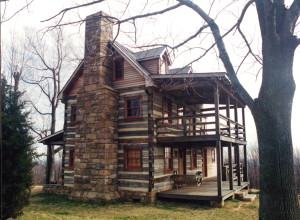 Whether you like this cabin, or not, I would ask that you look at it's details and discover what it is that makes it special (or not) for you. If you make a practice out of this, whenever you pass a home or flip through a magazine, you will eventually become an expert in what pleases you and then you will be able to design a home for yourself that fulfills your dreams more than any architect ever could.
This is a sweet log cabin that I built years ago. I promise to bore all you good friends with it's construction details over the next week or so (sorry about that). But it's for your own good. 😉
I'll start out with this outside photo taken of the back of the house… Yes, I like all sides to look good… and I admit I am a "back of the house" kind of guy.
This side of the house faces "the view" which is a breathtaking panorama. When I designed the home on paper it had just a single story porch and no dormers on this side, but as the cabin went up and everyone began to appreciate the views from a higher perspective a double porch came into play, and the attic was finished with dormers installed to take in the highest view.
So here we have created my second and third "rules of building a great home" (the first being that all sides should be attractive) and now… 2) you need to know what features in a home appeal to you before you design 3) when you build a home it needs to be an ongoing design process and changes will likely be made as the house is built.
One last thing… while we are looking at this image notice the angled base of the stone chimney… a very nice, pleasing-to-the-eye, historically-found feature on quality built homes of an earlier era.
Originally posted 2015-02-06 15:53:09.