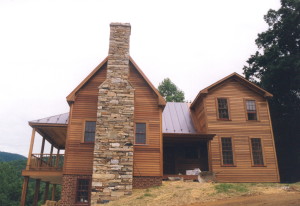 Here's the side profile of the Middle River house… this is where you park your car and enter the home. The front section features a stone chimney placed so that you can enjoy it's beauty every day when you arrive home. Solid stone chimneys, built well, are not inexpensive so when you design a home make sure you place the chimney in a location where you will see it when you approach the home and park. You don't want to hide something like this from view.
The section to the right is built using standard framing techniques (fast and easy) and where you will find two bedroom/ two bathrooms, one stacked over the other.

The section of the house behind the chimney is timber-framed using wood that we harvested locally and then cut and assembled. (That's about as green of a construction as you can get!) This area with a cathedral ceiling serves as a kitchen and living area and connects to the front porch… all offering tremendous views.
Originally posted 2015-02-03 13:56:20.