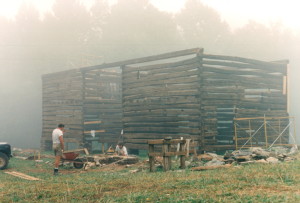 A barn in the mist.
The logs are now all in place. Next up is the roof and then the extensions. She is starting to come together.
But, I wanted to pause here for today and let everyone take in this photo. It was a moment in time that quickly passed. Thanks to photography I can once again revisit it.
It had rained hard the night before and everything was soaking wet. The sun was in the process of rising and burning off the morning fog. The masons always arrived first, it's just who they are.
The site was always quieter without the noisy woodworkers around, with all their power tools. They would be arriving soon, and the stillness would vanish.
During the course of any given year here in Virginia there are maybe thirty "perfect weather" days. You know what I mean… 75 degrees, sunny, a few puffy clouds and a slight breeze. The trees are green, the flowers are in bloom, and somewhere is the smell of a freshly mowed lawn.
On those days it never fails that I will run into one or more people that spend their lives working inside who will tell me how much they envy me for "being out there".
However on the remaining three-hundred-and-thirty-five days of the year someone will make the comment to me "I don't know how you can stand working out in that… cold… or heat.. or snow… or rain… or sun… or mud… or whatever.
For certain there are many days where I walk out the door because I have to, because I did so yesterday and today's weather isn't much different. But, for the most part, once I am out there in it, and doing what I love, it's the best thing there is.
I feel more alive when I'm out there.
Life, is out there.
I think we were designed to be "out there", even when it's not comfortable. I know it's hard… our homes today are SO comfortable. I think that is the reason so many people have me build them small rustic places… it makes being outside easier.
On this particular day, the one seen in this photo, it was a miserable morning… everything was wet. Within just a few steps my shoes were wet and muddy. Gloves quickly became soaked. And then my hands without the gloves quickly became covered in dirt.
But the morning mist made it all worthwhile.
Those carpenters would miss it this morning. But the poor bank tellers, who only envied me on the perfect days, would never witness a moment like this.
Originally posted 2015-03-16 18:18:36.