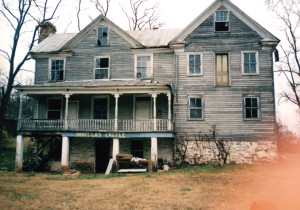 A day in my life… part 1
I've owned my own building firm for 26 years now (I've been swinging a hammer for over 40 years). The name of the company is Blue Mountain Builders… you can look us up if you are ever interested.
Our niche has been building new homes, in a traditional style and often using materials, from old homes, or other vintage structures, that are in jeopardy of being lost. Often we have moved entire homes and rebuilt them.
In the process we have done our share of restoring historic homes. It comes with the territory. To me it's not as much fun as starting from scratch, but we sleep well at night knowing we've helped preserve another old gal.
The greatest teacher that I have ever had has been the old homes that I have touched and explored.
As you may know I have been going through boxes of photographs that I have here in my office, my life's work, and I've been sharing a lot of my completed projects with you here on FB, but in the process, I've been building up quite a pile of old homes that I have explored over the years… structures that have taught me lessons, that have impacted me, but yet buildings that I had no further involvement with.
For me they were "here today, gone tomorrow".
Please bear with me over the next few days as I lower the pile of these photos of "a day in my life" buildings. They are just too precious to pass over and not share. I promise I'll get back to some of my finished work when done.
Maybe, these coming photos will have something to share with you if you look closely.
Keep in mind that I have explored hundreds of these places. They have all impacted me deeply. Maybe, that is why I need the therapy of sharing my career with all of you.
God bless you for listening. 🙂
Originally posted 2015-05-16 15:54:18.