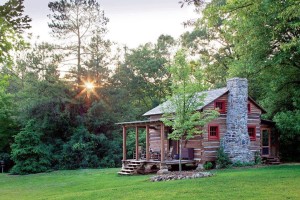 A nice cabin, in a wonderful location.
I do enjoy a good cup of coffee in the morning on the front porch of a cabin.
There are two things that I would have done differently if I had built this cabin… I would have put a lot more emphasis on building a more attractive chimney (the stonework seen here on the chimney appears to have been done by more than one mason, each with different styles of randomly cementing stones in place)… And, I would not have used wide windows in the gable ends of the cabin (which visually makes the pitch of the roof look lower).