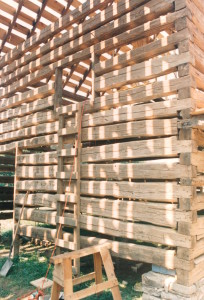 So many lines.
The logs run one way, and the rafters another.
And then the roof sheathing went on and created yet another set of lines. No one was prepared for the moment the sun came out and overwhelmed the barn with shadows.
The affect wouldn't last for long. Within a few days we would have a metal roof on top of the barn and "the days of overwhelming shadows" would end… but for a time… it was amazing.
Originally posted 2015-03-18 16:00:30.