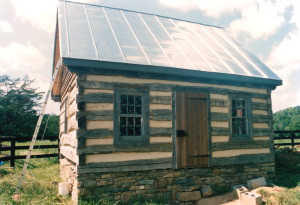 If you are looking to build a log home for yourself, this little cabin is worthy of your consideration.
She is just big enough to make a fine little home. Yet small enough that two men can easily build it… (or quite possibly, it could be put together by one focused individual).
This precious cabin would make a fine second home, or a guest cottage, or maybe even a retreat for those seeking a simpler lifestyle.
Or, perhaps a cabin like this could serve as an addition to a framed home for anyone interested in a log bedroom or a den being added to the back of their house.
This cabin was a first "of sorts" for me. It was the first cabin that I designed and built on my own. For the record, I had restored and built many cabins for other people (through other construction firms) but never one on my own.
It was 1989 and it had been a year since I had started my own building firm… Blue Mountain Builders.
I've heard it said that 90% of all businesses fail the first year… so I was doing pretty well to have made it through that hurdle. But I was a bit sad, I had still not built a single log cabin. And, I was suffering from cabin fever.
When I started out on my own I had a vision of creating a company that would build new homes that were traditionally designed… and homes that would feature antique salvaged materials. I also hoped that I would perform restoration services on historic homes, but my heart was really drawn to saving old cabins and all other types of structures from being lost by building them new again… to give them a new life.
I was thankful for the work that came my way that first year… I built a tractor shed, I finished someone's basement, and I did the trim-work in a huge, high-end, home. I managed to pay the bills thanks to those projects, but my dream vision seemed so far away.
So, I took a gamble, I borrowed 1,800 dollars from my dad in order to be able to buy a stack of old logs that someone had salvaged out of a neglected barn.
>>> I'll continue this story in my next post…
Originally posted 2015-04-30 21:26:08.