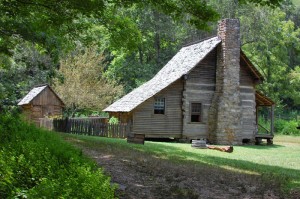 I often catch myself pausing for a few minutes when I look at a photo like this… there is an unusual mix of calm and wonder that I feel.
I'm at home.
And, the intensity of  these feelings is only magnified when I stand before a place like this in person.
Why is that?
What is it about these vintage structures, made of natural materials, and assembled by hand, that captures me so?
Why is that so many homes fall short of achieving this reaction?
Should this be the goal of someone building a home?… that this be the bar that determines whether a home has passed the test, or not?… it's a concept worth considering that a home not only serve as a source of habitation, but also as something that stirs the soul?