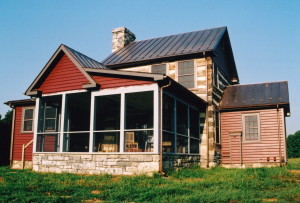 Almost half of the square footage of this home is the screen porch.
How many homes can make that claim?
These clients… live… literally live… on their screen porch.
They enjoy the views from here. They entertain here, they share meals and stories here, they even break out cots in the evening and sleep out here.
What is wrong with these people? lol
At times I felt like I was commissioned to design and build a screen porch with an added afterthought… "oh yeah, don't forget we also want a log cabin".
When I heard of my client's desire for a such a large porch I was at first baffled as to how to design such a huge structure that wouldn't overwhelm the cabin visually. I finally solved this dilemma by breaking up the roof line of the porch (as can be seen in this photo).
This little roof detail also created a much more visually interesting porch to be sitting on, and as an added bonus, the higher ceiling area created a great space to locate ceiling fans that would not be intrusive to it's inhabitants, nor endanger them with decapitation.
To this day… all family members still have their heads attached. And they love their porch… and, oh yeah, they love their log cabin too.
Originally posted 2015-03-20 16:21:53.