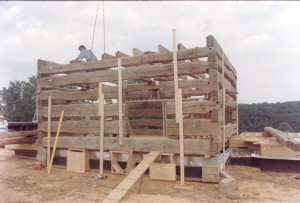 Once I had the plans drawn for this home I spread the word out among the many salvagers that I know that I was looking for some sensational logs.
I always… always…buy the absolute best logs that I can find.
I was pleased to find a great selection of large logs that came out of an old barn.
I do like barn logs… a lot. They tend to be more massive in size. They are also longer because barns do not have all the window openings in them that a house does. The hewing on barn logs is also often more striking and pronounced (rougher)… after all, the man of the house did not need to impress the cows as much as he did the lady of the house with his workmanship.
Here in this photo you see my crew well underway in using these logs to build this fine little home. The first floor is now up, and the ceiling joists are being set.
Originally posted 2015-03-21 12:50:45.