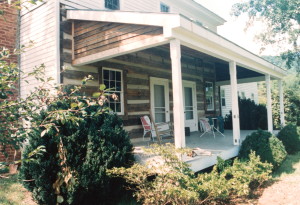 This is the log cabin that wanted to be a farmhouse.
I once received a call from a lady who had lived in a beautiful farmhouse for many years. The outside had clapboard siding, and the inside had plastered walls and elaborate heart-pine wainscoting and fireplace mantles.
She had always been told that the house was constructed of log and she really wanted to see and enjoy those logs, even if it was only for a few years.
But she didn't want to alter the beautiful interior so she came up with the idea of exposing the logs on the outside and so she contacted me for help.
We started removing the siding on the front of the house and by the time we got to the top of the porch we discovered that she did indeed have a beautiful early 1800's cabin, perhaps even a late 1700's cabin.
But then… we discovered a unexpected problem…
Originally posted 2015-04-30 13:58:04.