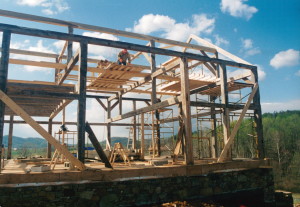 The county building inspector had taken a look at this structure (that another builder had put up) and promptly condemned the building site. He recommended that the building be taken down and then rebuilt correctly.
He placed a work stoppage on the house… the builder quit… and the owner fired the builder… I'm not certain of the exact order of these events, but that's the story.
The building inspector said that he knew of one person who might be able to fix the situation and that would be… me.
When I showed up the site I could hear the plywood popping as it was giving way under the weight of the frame. I could see how every pegged joint in the structure was under tremendous pressure. It was a nightmare scenario.
Now, I have taken down many old frames that were in less than ideal of conditions but at least all of them had had a solid foundation under them. This was the scariest barn I've ever seen.
The way I saw it upon walking around her, this frame would either need to come down in a pile of splinters via a wrecking ball, or house jacks would need to be put under each and every post and then slowly raise them back up in unison and and then place proper supports underneath of them (while saying lots of prayers that the frame would not collapse on the men working).
Con't in the next post…
Originally posted 2015-05-16 13:11:31.