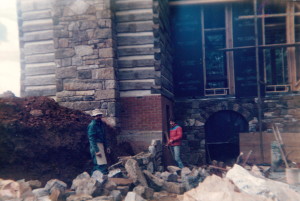 You won't see another photo like this one.
Here is the only example I've ever seen of a log cabin built with a brick foundation. Keep in mind that this is a new home making use of an old log cabin, so this combination of materials is vintage 1980's.
I have never seen an original vintage log cabin with a brick foundation… there might have been some, but if there were any, they were rare.
The use of brick under this cabin was at the direction of the architect in charge of this project.
Keep in mind that I like brick. And, I like brick and stone used together as seen on this project… I feel that they compliment each other. But, try as I might, the use of brick under a cabin just doesn't look right to me.
What do you think? Am I being too picky?