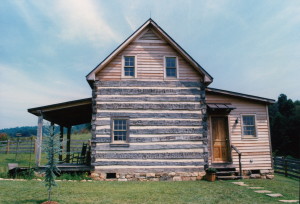 So, we finished up this little cabin.
We packed up our tools and went on to build many other structures, some that I've already shared here with you.
On occasion over the coming years I'd run into the cabin's owners at the local deli and they would share how much the cabin meant to them… how it had created so many precious memories for them. It always warms my heart to hear such things.
I had left this side of the cabin rather plain, but prepared for an addition that would one day occur which would convert this weekend cabin into a full-time residence. I wondered if I would be the one that they would call. I wondered if I would still be building twenty years later.
But that call came only five years later.
The pull of rural life grew stronger for these folks. Each weekend stay at the cabin had grown harder and harder to leave for their return to the urban lifestyle. They had figured out a way to make the transition sooner.
Originally posted 2015-05-27 12:55:35.