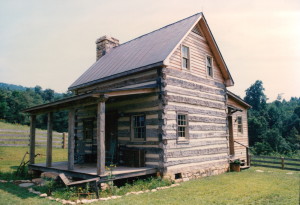 The Ruth cabin would have a copper roof…
The cabin's owners planned on this home being a generational home, one which would be passed down to their children and then onto their children's children. They wanted a roof that would not only be attractive and long lasting, but a wise investment as the years would go by and the roof never needing to be replaced.
I designed the home to easily adapt to the home expansion that would come five years later. The window on this end of the cabin would quickly be converted to a doorway with the aid of a chainsaw.
The porch posts and rafters on the front were framed out of old barn timbers… it's floor was framed out of new pressure treated wood and covered in rough-sawn oak purchased from a local sawmill.
This porch, low in cost, virtually added another room to the cabin, an area greatly enjoyed by family and visitors alike.
I think the little lean-to addition off of the back, covered in cedar siding, adds to the aesthetics of the cabin… it creates visual "balance" and… functionality, by giving the cabin a small kitchen and bath.
Originally posted 2015-05-25 14:15:34.