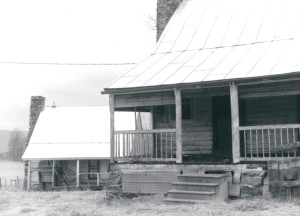 Here are the porches of "the Two Sisters".
One of the first rules that I've always heard about Virginia buildings is that whenever there is a grouping that they always lined up with each other perfectly… they were either built perpendicular or parallel to each other.
These two ladies clearly broke that rule.
I also notice that the house with two chimneys has three front doors… now that's curious.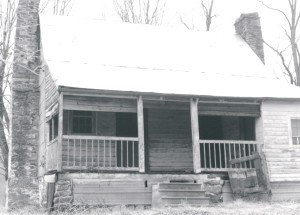 And, the other house, has has two doors on the porch… with another that leads down to the root cellar. There is no shortage of doors here, for sure.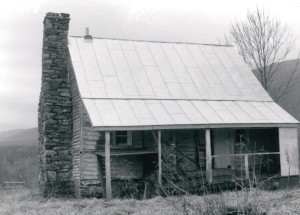 At first, I wondered if these houses might have been homes for farm hands or servants. I was assured by the property owner that that wasn't the case… For one thing there was no "main house" anywhere nearby. And that these houses were both known to have been inhabited by a large family with many extended family members… each seeking a bit of privacy.
Notice the stone chimneys… each with it's stones laid flat. How about that nice cap detail at the top? sweet!
Within a half mile of my residence there have been at least twenty houses built in the last ten years, all in excess of a million dollars, and not one of them has a masonry chimney. If these down home folks could have these solid stone chimneys back then, why is there no room in the budget of the wealthy for at least one today?
Originally posted 2015-04-25 13:39:03.