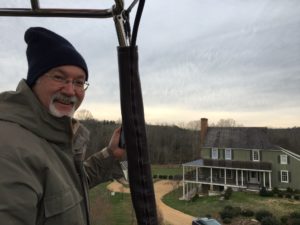 Hi, I'm Noah… and it is a pleasure to meet you!
If you have found your way to this site, it's likely because you are seeking your dream home. Maybe you don't have a clear vision of that future home, but you do know that you want it to be… well… perfect.
No vinyl covered box for you!
No way! You want… a Handmade House!

And so, you begin searching online for inspiration and guidance to help you discover that home, but instead you discover that there is an overwhelming amount of conflicting and confusing options, and opinions, to be considered. A quick online search of simply "how-to-swing-a-hammer" will reveal 56,000,000 results! This "information overload" can make the process of discovering a unique handcrafted home overwhelming for even the most experienced of home-builders.
I can help you with the process of discovering and achieving the Handmade House that you want to have.
If you would like further clarification of what defines a Handmade House… click here… for a free video where I reveal the "Twelve Key Characteristics of a Handmade House"
Together, we can do this!
Let me tell you how I can help you… by first telling you a bit about myself…
I began my building career at the young age of 15 while helping my father hand-build his own home. My dad was not a home-builder by trade, nor an architect… he was a "suit-and-tie" businessman who simply had a dream of building his own home. By working alongside that great man I learned many of the foundational secrets of how anyone can achieve a home that is tailored to fit who they are.
A few years later, at the age of 20, I acquired an unquenchable desire to build my own house, and I did just that, while at the same time pursuing a college degree and working a part-time job. I started out by finding a piece of rural wooded land with owner-financing and then went on to draw the plans for a rustic-style home with natural wood siding and a metal roof. When Spring arrived the following year I began digging the foundation by hand, and would over the coming months undertake every phase of the construction of that 1,400 square-foot home, which would cost me less than $20,000 to complete.
Here is a recent aerial image of that home, now nearly 40 years old… pretty cute isn't she? 🙂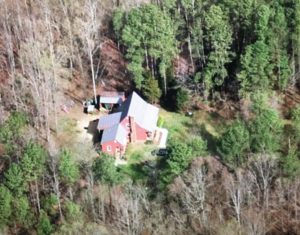 And then, five years later, at the age of 25, along with my "newly acquired bride" (who still lovingly puts up with me), we sought a simpler lifestyle and so we pursued homesteading. The two of us relocated to the Appalachian Mountains of eastern Tennessee where we lived in a tent while clearing our land with a team of horses and building our new home using vintage materials that we had salvaged from an old house, a barn, and a schoolhouse… all of which were in various states of disrepair. Life was good then, our days were carefree; we hiked, we tended our garden, and we helped our neighbors (who we must confess, helped us even more).
As our family grew in size we would eventually relocate to the rural countryside surrounding Charlottesville, Virginia and in 1988 we founded Blue Mountain Builders, a company that specializes in building new homes that are traditionally designed and that incorporated the use of antique and locally resourced materials. These new houses and cabins are designed to compliment the landscape. Each of these unique homes looks as if they had always been there.
The very first log home that my new company built (seen above) was featured in a lengthy article and made the cover of Country Living Magazine (as well being featured in multiple other publications as the years have gone by). For the next 30 years our skill and craftsmanship only improved with each and every project that we undertook and many of these other handmade houses were also featured in multiple publications including…
Financial Times
The Washington Post
This Old House
Log Home Living
Country Home
Hands-On Log Homes
Early American Country Homes
The Farmhouse Book
Mid-Atlantic Country Living
Better Homes and Gardens
Timber Home Living
Wilderness Dispatch
Energy Efficient Homes
Rural Living
and… many, many more.
I tell you all of this not to impress you… but, to impress upon you… that you too can design and build your own home. No matter where you are in life, no matter your level of experience, nor the thickness of your wallet… you too can achieve your dream home.
I'm no Superman  (trust me on that one… lol… just ask my wife!).  I'm just an average guy who has walked the walk. Someone who has been through the process of designing and building a handmade house over and over again… someone who has "tried it all"… someone who has "discovered the best, and left the rest".  And yes, someone who has learned from their mistakes.
I've been driven for decades to discover how to achieve the best handmade house possible and this list of publications merely demonstrates that I have achieved some level of success in reaching that goal. But, the greatest reward in my career has not come from this world-wide recognition, but rather from the satisfaction of going back to these homes that I have built, some nearly 30 years ago, and being greeted by those same homeowners who still to this day express their continued appreciation and strong affection for the handmade home that we created together.
Now, as I am approaching the age of 60, I am slowly shifting away from the joy of hand-building one or two houses at a time to sharing the insights and secrets that I have acquired from a lifetime of building truly unique homes. I have over the many years of my career carefully explored and experimented with nearly every form of construction including: alternative methods, historical techniques, and modern construction. I have never lost track of "the big picture" while at the same time keeping my focus on the smallest of details. I have embraced the best of what each niche has had to offer and then combined them together to create some truly amazing homes, each one of them… unique and special.
Now, I want to help you!…. by sharing with you as much as I can.. here… online.
Without a doubt… there is a LOT of free, valuable, information to be found on this site.
But, if you want more…
If you want all we have to offer… wrapped up in a complete package… 
If you want your dream home to become more than a just a dream…
Then you need what the Handmade House Academy has to offer!
How would you like to know all the secrets that a lifetime of building unique handmade homes can bring about?
Would you like more access to the nation's leading authority on alternative housing?… to become an insider?
Would you like all this at a bargain, low price… rather than paying thousands of dollars in private consultations?
Then, The Handmade House Academy is what you are looking for, and the time to move forward is now!
In addition… there are bonuses! … (yeah! everyone loves bonuses!)
One bonus is the opportunity to become part of a like-minded community of individuals who seek to have their own handmade house… a private group consisting of only those who have signed on with the Academy. Make sure and visit the Academy Page to learn more.
It is our goal here at Handmade Houses to share with you all that we have learned through decades of building one-of-a-kind handmade houses. We've spent years putting together The Handmade House Academy… an eight-part video series where we share with you all the trade secrets that we've garnered over decades of building unique homes… (even more videos are now being added!)  It's true… anyone can design and build their own amazing home… and in the Academy we tell you how.
This is essential information that you simply won't find anywhere else. Insights that you simply don't want to learn the hard way.
The Handmade House is designed with you in mind… for anyone who wants to have a handmade home. Anyone from the novice who has never built a home, to the professional builder or architect who wants to build a handmade house, a home that doesn't look like it came off of an assembly line.
Throughout my career I have assisted a wide variety of individuals who have all had in common the single desire to have a home that is handmade. Every one of these clients has realized that in order for them to achieve their perfect home, whether they hand built it themselves or not, they first had to discover their dream home and that discovery process is the essence of the Handmade House Academy… to help guide anyone from their first imagining of a special place, with only a vague vision of what that future home might be like, and then guiding them through it's design and construction.
We promise you, the Handmade House Academy won't overwhelm you with technical details. There will be no "how to install a water heater" demo, but rather you will gain the deeper insights that you will need in order to achieve your own dream home.
What would The Academy be worth to you if it is what was needed in order for you to achieve your dream home?… a home similar to the ones seen on this site?… a course that will also show you how to save thousands of dollars in the process of designing and building that home?
I would ask you to consider how far will you be a year or two from now in the realization of your dream home if you don't take advantage of this course.
The current offering of the Handmade House Academy is only $597.00 and we now offer a payment plan for those who are interested … that's a fraction of what it will cost in the future ($2,000). A typical builder charges 15% of the cost of a home to oversee it's construction… and an architect will easily cost you well into the thousands of dollars. In comparison, the cost of the Academy seems minimal doesn't it?
What would the value of the Academy be to you if it emboldened you to design and and oversee the construction of your future home yourself and you ended up reducing the cost of that home by 20% just by undertaking these positions?
In addition, for those who enroll in the Academy, we'll be offering some incredible bonuses…
Lifetime access to the course and all future revisions.
Lifetime access to a private group "The Guild" where I and other members will inspire and share with each other our dream home ideas, visions, and progress. (the current public Handmade House Facebook group is now approaching 200,0000… much too large and publicly accessible for any real value or sharing)… imagine the benefits of a small group of kindred spirits who, like you, have demonstrated a higher level of interest in achieving their dream home.
Plus… you just have to check out the Handmade Academy Page to learn more about the current offerings!

If you ever intend to take advantage of what the Handmade House Academy has to offer and one day build your dream home… the time to enroll is now!!!
So, let me tell you more about the full Handmade Academy Course…
I'm going to walk you through the features that make up a great home and point out why some homes leave us breathless, while most homes are soulless boxes. I'm going to share with you how you can play a major part in the creation of your dream home. You will learn how and where to look for inspiration so that by the end of the course you will be more qualified to design and build your home than anyone else. Perhaps you want to build your home hands-on, or maybe you just want to sit back and watch it happen, either way, the more enlightened you are as to how a handmade home comes together, the more amazing your new home will become.
Learn how you… yes, you… can draw plans to your future home, a house more attractive than any in your area. Even if you don't want to draw the complete detailed set of plans yourself, you need to at least make some preliminary drawings before you ever visit your architect. Let us show you how!
In the Academy you will gather insights into many of the alternative forms of construction, the steps involved in building a home regardless of which form of construction you choose, and learn multiple ways that you can save substantial amounts of money, while creating a higher quality home.
Where else can you get an overview like this?… Taught by someone who has tried it all, and is now noted as the best in his field.
My work has been featured in countless publications. For decades clients have sought me out to design and build wonderful homes for them, and during that time I've built a few for myself.  My competitors have tried to learn my secrets and gain insight in why the homes I have built stand out, but all have failed as they continue to build cookie-cutter homes and McMansions. My success hasn't come from any great ability on my part, other than I have sought to learn the secrets of homes that have stood the test of time, and to get better with each home that I have built, while paying attention to every detail, and learning from my mistakes, as well as my successes.
Now, of course you can choose to go ahead and spend the next several decades of your life building a hundred or so handcrafted buildings, and reach the same point that I'm at, or you can sign up with the Handmade House Academy and move to the front of the line. I would have leaped at such an opportunity decades ago if such information had been available then.
I would urge you to consider enrolling in the online Handmade House Academy. The doors are now open for enrollment! I invite you to become part of my inner circle!
The Handmade House Academy is the cornerstone in my ability to serve you. Here you will gain lifetime access to over eight hours of videos (with more being added) where I share my best insights, and the secrets garnered, from decades of experience in designing and building internationally recognized one-of-a-kind handmade houses. Members of the Handmade House Academy are able to skip years in their learning curve, while avoiding costly mistakes, and are able to move forward confidently in the construction of their own home or cabin. Currently included with the Handmade House Academy is lifetime enrollment in The Guild, a growing private Facebook community of fellow handmade house enthusiasts and your ticket to becoming an "insider".
For those who want the "highest level of personal service" in the realization of their dream home, I am also available for private consultations. And, on a very limited basis, I am available to build a few more spectacular handmade houses. Prices and availability vary with the scale and location of the project. For those interested please direct any inquiries that you may have by using my contact form or by directly emailing me at Noah@handmadehouses.com  (the more information that you the provide, the more detailed my response can be)
Finally, I want to thank you, for taking the time to visit this site and allowing me to share my passion with you. Your time is precious, the most valuable thing you possess, and if you have shared some of it here with me today… I am most grateful.
Noah
PS… make sure you have signed up to join on our email group! (just follow the red arrow over to the right of this page). We would also like to invite you to join us on Facebook where you will find a large interactive group of like-minded individuals who share the dream of one day building their perfect home.
Also, make sure and check out Handmade House TV!  which started November 9, 2016 with a new episode issued every Wednesday! (there is just so much that I want to share with you!)
All of the images below are a sampling of my previous work… and a hint at what you will one day build for yourself!