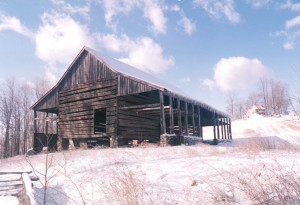 I have one last photo of this barn to share with you.
This one was taken a few years after the barn was rebuilt. As you can see the barn has now "aged into the land". People who visit her today can no longer clearly remember when she was not part of the landscape.
I am so thankful to have had the opportunity to save this barn. It was so enjoyable to participate in raising each and every log and to drive in all those pegs which hold her so tightly together.
This barn was on a fast path to becoming lost forever where she originally stood. Perhaps someone would have bought her and used the logs to build a log home with them. More likely, someone would have bought her and sawed all the logs up for lumber and made furniture out of the wood.
But, as fate would have it, there was someone in this world that wanted an old barn on their property, and now, they have one. This barn was saved, as a barn. Imagine that.
And I… well, I… had the time of my life. I, still to this day, have special feelings towards this barn. As you can likely tell.
I thank you for letting me share the tale of this double pen, chestnut, barn. If you have enjoyed hearing about it a tenth as much as I have enjoyed sharing then we are all pretty happy people. 🙂
Originally posted 2015-03-19 12:08:07.