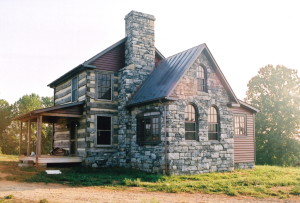 I once designed, and built, a combination log cabin and stone home. Over the next few days I'd like to share with you how it all came about.
I was contacted by a client who just loved the little log cabins that I most often build… you know… the ones featuring a family room downstairs with a fireplace, a bedroom above, and a small kitchen lean-to off of the back.
But these clients wanted more rooms… they wanted a dining room, a large screened porch, and a small office area. And, this is what I came up with.
The log cabin gives them their family area complete with a fireplace and a bedroom above. The stone area gives them a nice dining area with a little kitchen coming off of the back of that.
The screen porch is off of the back of the cabin… and a little office space can be found on the far side of the cabin.
Originally posted 2015-03-19 16:48:47.