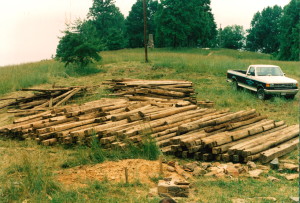 The double-pen barn had reached her new site and it was time to rebuild.
Has anyone else ever played a game called "pick up sticks'?
How about tinker toys?… or Lincoln logs? … you know… the toys where you dumped out all those pieces and then it was time to put something together?
Well, that's how I felt when I gazed at this pile.
It's a good feeling to know that you can still play even after you have reached adulthood.
Originally posted 2015-03-15 18:32:08.