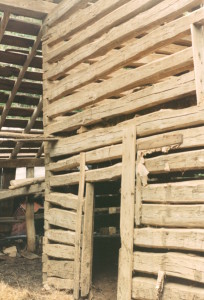 It was a double-pen log barn…
Which meant that she was composed of two separate log structures… one little log cabin built close to another, and then, both were covered with a single roof. The space in between the two pens became a breezeway where farm vehicles could easily enter and exit.
It's a genius method of construction that enabled as few as two men to build a large barn. Country folks "back then" were a lot smarter than most people give them credit for having.
I read recently where a poll revealed that one in four Americans today don't know that the Earth orbits the Sun… now that is just sad. (It scares me for the future of democracy)
But anyway… back on topic…
All the logs in this barn are chestnut.
Most structures that are made out of chestnut were built in the 1930's right after the chestnut blight wiped out all of those precious trees. All this newly dead wood flooded the market and became the building material of choice… it was abundant, easy to work, long lasting, and cheap.
Another benefit of chestnut is that it is light in weight, two men can lift any log found in this barn. If they had used oak, four men would have been required.
Today chestnut is very rare and highly sought after. It is only available through salvage and it is no longer cheap in price. It was a thrill for me to be surrounded by so much of it.
A final note with regard to this photo… notice our tags that are attached to each log. The individual logs were numbered carefully so that we could put this barn back up, just as she was.
Originally posted 2015-03-15 17:48:31.