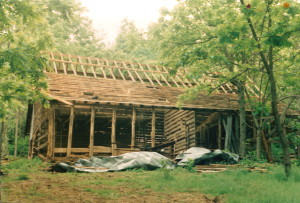 Step one on our journey to disassemble this barn was to remove the old barn siding… we do this very carefully… it's always handy lumber to have around so we don't want to waste it.
And then we remove the metal roofing. It is an easier process than you might imagine and one that we always find it quite "invigorating".
We start at one of the top corners of the barn roof and with a digging bar we start to "unroll" the roofing. It's the same sort of process as opening a can of sardines.
About the time that we are a third of the way across the roof of the barn the metal that we have rolled up has gained enough mass that it will unroll the rest of the roof on it's own momentum and leave us with one big pile of metal on the ground.
It's quite a thrilling moment when it happens, especially for the man on the roof. There is a lot of noise, and tremendous shaking, and all kinds of things flying in different directions. lol
It's the same thrill as you get when you are on a roller coaster. You have committed yourself to something and then find you are no longer in control. And once it's over, you want to do it again.
A track loader then rolls over the metal pile, folds it a couple of times, and then the recycler generally pays us enough for the old metal to buy everyone some refreshments at the end of the day.
Originally posted 2015-03-15 16:19:44.