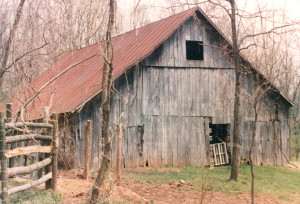 I have visited, and explored, hundreds of old barns over the years.
I really have… hundreds of them.
And, I have loved them all.
There is nothing else quite like an old barn.
They are magical places. Full of sights and sounds, and yes, smells, that you simply won't find anywhere else. Maybe it's just me, or the fact that I have so many fond memories of exploring my grandparent's barn as a child. I just feel more "connected" when a barn is near.
If you haven't been in an old barn in a while (or heaven forbid, you have never been in one)… make it a priority to go visit one. You won't regret it.
It is sad that these antique structures are disappearing so fast from our landscapes. They just aren't needed like they used to be… the large round bales of hay, which are so common today, turned out to be the swan song of these relics.
I watched a tv show the other night where a young man called a barn a "cow house". I guess we are heading into a future where even the word "barn" will only garner confused looks.
I have restored a few barns over the years… a couple of them now serve as locations for wedding receptions, another one offers square dance opportunities, and yet another serves as a museum for a modern art collection. Not a single one provides a roof over the head of a cow though.
I have also rebuilt quite a few old barns as homes or cabins for clients…some of them were timber frame, some were log… they do make mighty fine homes… no doubt about it.
But only once did I salvage a barn and have the privilege of putting it back up as a barn. It was incredible. I had a great time. I learned a few things too.
I look forward to sharing it all with you this coming week.
So, let's build a barn!
Originally posted 2015-03-15 15:13:02.