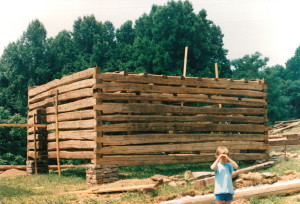 And now one of the "pens" of this double pen log barn has reached one story tall in height.
There are a few things here that I'd like to point out…
First, that's my oldest son in the foreground taking a photo of dad with his imaginary camera. (he, with the aid of his lovely wife, recently gave me my latest grandson). The days are long, the years are short.
Second, notice the square notching in the corners. It's an easy notching technique to use and so it is most commonly found in barns built by farmers. Each course was pegged through these notches to secure the logs. (if you look close at the photo you can see pegs sticking up in each corner.
Finally, notice how disappointing a one story log structure it to the eye. All the horizontal lines found in a cabin only accentuate this problem. To me it looks like a cigar box.
A log cabin needs to be at least a story-and-a-half tall to be attractive.
Originally posted 2015-03-16 15:57:30.