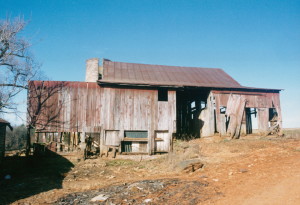 Over the years I've been offered hundreds of old barns, free for the salvaging… each an opportunity for antique materials before these structures were bulldozed or burned down.
On some days there would be multiple unsolicited messages on my phone for me to come look at yet more of these unwanted relics of our past. For years the calls were overwhelming.
But the phone doesn't ring with offers like that near as much any more… I fear what that means. For certain when I drive the roads of this state I don't see those wonderful "cow houses" like I used to.
Most of those barns that I was offered… I never went to look at, there were just too many, my resources were too thin, and my focus was more on saving the old houses.
The houses that were in danger of being lost were from a much earlier period and contained much finer and more valuable materials. While most of the neglected barns were "20th century" and were built of materials identical to what one can obtain at any local sawmill.
Likely the vast majority of those barns that I was offered are gone. They are now just memories.
But this old barn still stands today… thanks to a little help from me and my crew… and the barn's owner who surprised me when he took my advice to let me repair it.
Originally posted 2015-05-14 12:22:13.