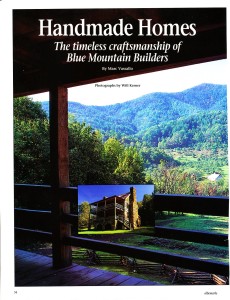 One last photo of this cabin.
This image is the first page of an article done on my company by a local magazine on my company, Blue Mountain Builders. I won't bore you with posting the whole article, but I did want you to see this one image.
The photo is of the view that is seen from the porch from this cabin.
I believe the image that I got in my mind from this client, after first meeting with him, was that his vision for his new home was… "I want a porch that I can sit on and enjoy this view from every day, and oh yeah, I want a log home behind it"
Originally posted 2015-05-13 12:52:34.