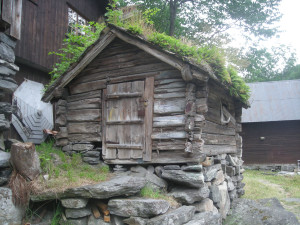 This little log outbuilding is likely 200 years old.
It probably took the man who built it a few months of his spare time.
He could have gone to Loews and bought a pre-assembled shed. 😉
(That would have been easier… and quicker).
But, he made this choice.
And so, by choosing to build with his hands, he left behind a treasure to descendants, people that he would never know, a charming outbuilding, one that they could use and enjoy.
If he did nothing else during his life, at least he left behind a lasting legacy of his time here on Earth.
The workmanship of the men and women of our past inspire us all today to ponder what we will leave behind for future generations.