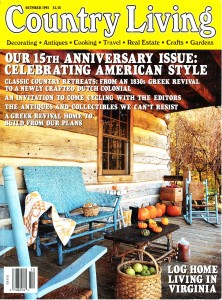 Remember that song back in 1970's about how a rock band would know that they had made the big time when they were on the cover of the Rolling Stone magazine?
Well, if you were a log builder in the 1990's the dream was to make the cover of Country Living magazine… and this cabin, made it there for me. 🙂
No, my smiling face wasn't featured on the cover… lol… but, trust me… I was standing behind the photographers… with a wide smile across my face.
Originally posted 2015-05-12 15:08:58.