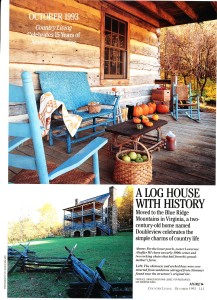 Page 1 of the the Country Living article on this cabin…
The photo shoot was in a word… "classy".
This old country boy was impressed.
"Country Living" flew in from around the country some of the best photographers in their field.
They timed their arrival to coincide with the beautiful Fall colors. You can see all the bountiful harvest on the porch… so meticulously arranged… from the orange pumpkins and even a gallon of fresh apple cider… yum.
Their images are nothing like my photos where ladders, mops, and sawhorses are clearly visible. lol My photos are embarrassing in comparison.
Originally posted 2015-05-12 17:57:56.