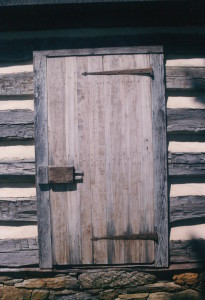 I found an old barn door that fit just perfectly on this cabin.
It was a very old door, with a wooden lock, hand forged hinges, and two horizontal battens on the inside holding it together.
The quickest way to date a barn is to look at it's doors.
If you see a "Z" pattern on the batten side of a door, she is a twentieth century barn. "Z" bracing did not exist in Virgina prior to the Civil War… at least not that I have ever seen.
Originally posted 2015-05-02 14:37:35.