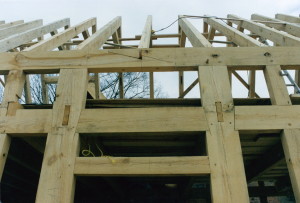 Overall the most striking aspect of a replicated Virginia house frame is the abundance in the size and number of timbers.
I designed this frame based upon historic standards of houses built 200 years ago in Virginia. The building inspections office still insisted upon having an engineers stamp on the plans, so I brought one in. His report stated that this frame was somewhere between 5 to 10 times stronger than needed. And that is one of the main reasons houses built this way still stand centuries later.
Some of the details that I'd like to point out in this photo is the number and size of the rafters (Virginians don't scrimp) (no Yankee purlins to be found). And, notice some of the joinery, like the beam the rafters are setting on has a scarf joint in it to create a beam long enough to span the length of the house. And finally, how all the horizontal members are "shouldered" into the posts.
I could look at this photo all day, but then, I'm just wood junkie.
Ted Benson, noted author, has put together an attractive book on timber frames but, he is a New Englander, as most timber framers are. There is no regional author/expert from the Virginia/Carolina area to rise up and bring our work to public awareness. It's a shame, Virginia is loaded with historic timber framed homes from the 1700's and early 1800's. New England frames are mostly built with a "bent" method and Benson writes as if that is the only way to build a timber frame but I've never seen a bent built Virginia frame.
All the frames I've encountered in Va, whether they are two stories tall or one, have been laid out such that there is a center hall and a room on each side. Sometimes the home is larger such as a four over four, but you will have the same center hall, and sometimes one of the center walls is eliminated to make for a large room and small room with eliminating the center hall, but all of the above are framed the same way. This results in having eight main supporting posts for the house, the four outside corners and the four corner posts of the central hall… these are key posts. Next in importance would be the posts on each side of the doors, windows and chimneys, while not holding up the house they are important for added strength. After these any further framing is entirely to add nailers to hold up plaster.

Originally posted 2015-02-04 15:49:18.