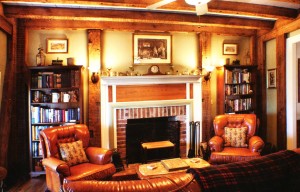 That window, the one that I mentioned in my last posting, would have been to left of this fireplace.
It would have let more light into the room (but once we had the walls framed up we could see that more light was not needed).
There would have been a nice view out of that contemplated window… but it would have been a small portal, and besides, that same glorious view could have been seen through other windows in the home, and, from both porches.
I felt that the addition of this window from the outside perspective would not have been ugly, but it would have created a bit more visual "bizzyness" than what I wanted to see in this area.
There is great beauty to be found in simple things.
A window added here in this location would have also taken up valued wall space for future bookshelves that the client owned.
And finally, there was the added cost in this change. We had plenty of other options in this project to blow the budget. Why start here?
So the window consideration was dropped.
Originally posted 2015-06-01 14:15:05.