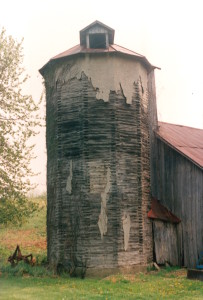 Here are a few photos taken the day we started our process of dismantling this silo.
She, and the barn she was connected to, were destined to be burned down. If we had not taken her down then, all that would be left of this structure today would be these photos.
The first thing I notice in looking at these photos is that she looks a bit shorter than the finished restored silo that we rebuilt… and that is because we added a stone base and a row of windows at the top.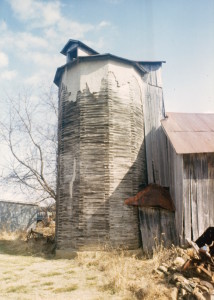 I also see the remaining plaster that still adheres to the outside. The plaster remained intact on the inside but the outside has lost most of it's finished surface. We contemplated building the silo back with this aged look, but in the end declined.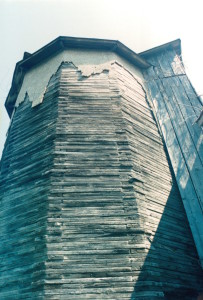 Even though the silo here looks shorter than the finished restored structure, she was still very intimidating to climb.
Originally posted 2015-05-03 15:15:35.