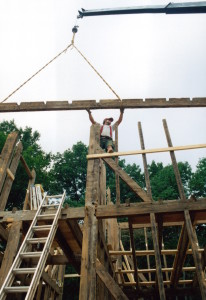 Here we see a man who is clearly, fully, committed to setting this top plate in place. Both hands on a swinging beam. It looks scarier than it was… but still, it takes a special breed of man to do the work we do.
I've been running my own restoration/building company now for twenty six years, and other than my broken finger, the most serious injury that I recall on my crew were splinters (we have had our share of them).
And for that, I am so thankful.
Originally posted 2015-04-12 14:40:28.