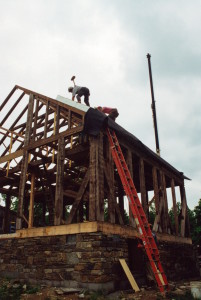 Once we completed the timber frame we immediately began to cover it up.
We did our best to keep weather exposure to a minimum . Our top priority was now to protect the frame.
After the frame was assembled we gave her a good cleaning with a power washer. We then took an evergreen branch and nailed it up on an end-rafter to symbolize our desired blessings for the homes inhabitants. We patted each other on the back for a job well done. And we took a few photos, for memories.
And then, it was back to work.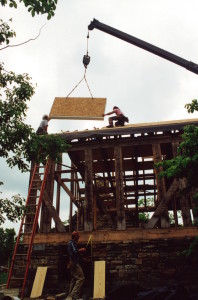 It was really a shame to rush the moment. A timber frame is so gorgeous. It would have been nice to pause for a couple of weeks and just have enjoyed this piece of art.
But, it was time to move on.
We covered the entire structure in stress skin panels. They provided added strength to the building, an outer shell to attach siding, high insulation value to keep it's inhabitants cozy, and a finished interior surface to brighten the interior.
Each panel was craned into place and spiked onto the timber frame.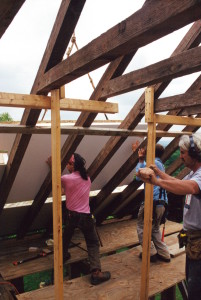 Once the panels were installed this addition became three to five times as strong as any new home built today using standard construction techniques. (Not to mention her being environmentally friendly, energy efficient, historical, and drop-dead gorgeous).
Originally posted 2015-03-11 16:17:52.