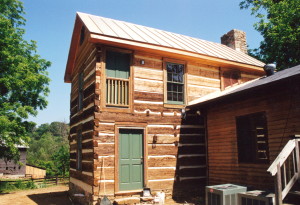 It's not a bad looking "back of the house". I'd be happy if most new homes looked this good on the front. lol
But yikes!
What's up with that second floor door?
This cabin originally had a crudely built addition off of the back of it and these doors lead into that space. Here, on the cabin's new site, there would be no addition built out back of it.
One option that we had was that we could "erase" this opening, or convert it to a window, by adding a few replacement logs. But finding exact matches for these fresh brown heart-pine logs would have been nearly impossible… I could have done a good job at making the change hard to see, but not a perfect one.
The second floor of this cabin would now serve as the master bedroom of the house. I joked around that this door could serve as access to the family's "unlimited storage space closet"… or that this could be the door to the "unwanted guest room".
The decision was made to leave the door and that at some time in the future, when the budget improved, the family would add on a small two-story porch off of this backside of the cabin.
What would you have done about this door if this had been your cabin?
Originally posted 2015-04-19 14:02:59.