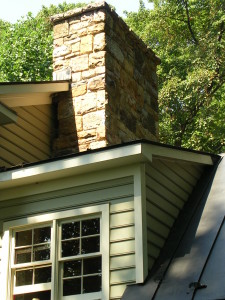 I like this photograph. There is just something very pleasing about multiple roof angles.
And then, there is that nice stone chimney poking through them all.
Sweet.
On every chimney that I have ever built I have made sure and that it has had a crown put on top. Yes, it takes more time and labor to add this little feature… which means yes, it cost a bit more money to build. But, I think a chimney with a crown signals to the world that this home was worth the extra effort… that no detail was overlooked in building this home.
Originally posted 2015-03-29 16:09:59.