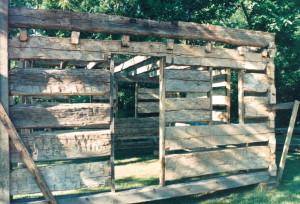 Now, as fate would have it, a few months before I began building the Madison House an unusual log cabin came into my life.
I received an unexpected knock on my door one evening. It was one of my salvage material suppliers. He had on the back of his huge truck an old log cabin that he wanted to sell me… one that he needed to sell… right then. The logs were beautiful, the price was right, but there were problems with cabin.
In my line of work it seems that there are always problems, and that if I think long enough on a problem, I find there is a solution.
This little cabin originally stood in the Scottsville area and rumor had it that at one time it was home to a couple who had twelve children. I have no idea how 14 people could have fit into this little place. I'm thankful that I wasn't one of them.
As I said the logs were beautiful… very wide, nicely hewn… all oak. Some of the logs had rotted away so replacements logs would be needed, but these logs were much thinner than any I have ever seen… four inches thick, rather than the normal six to eight that is the norm. I knew that I would never be able to find replacements.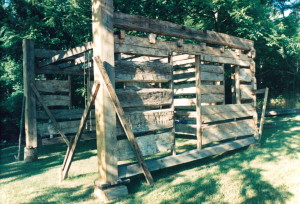 The fellow that took the cabin down didn't bother to photograph it, nor number the logs, as "the notches were all bad and the cabin was a mess, completely covered in vines". What a shame.
I bought that little cabin that night. It had quickly grabbed my heart.
I put her up on my lot as a three sided cabin… it was the only option I could think of. I thought it would make a great addition to someone's home one day.
I didn't know that someone would soon be me.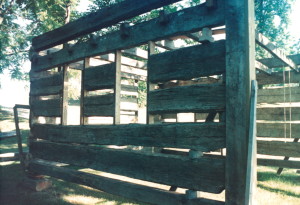 Originally posted 2015-03-24 19:20:59.