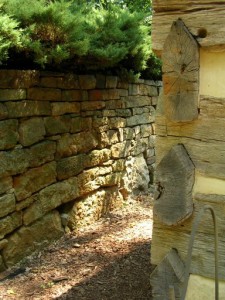 The plans for the Madison House were now drawn… it would be a T-shaped farmhouse.
The new year had arrived and I now had the wonderful opportunity to put my tool belt on and to build my own home. Yes! hands-on construction! I had done this twice before in the past, but I had learned a lot in the years that had gone by. This home was the best I could do in 1992, on a very limited budget.
The site was cleared. It was now time to pour the concrete foundation which would carry the weight of most of the house and serve as a guide for us to lay the stone foundation.
While laying out the foundation I realized that there was room on the end of the home for that little three-sided cabin that I had back home. It would be a tight fit, for sure. I would have to build a tall stone retaining wall to make it happen.
But after all … I was "the log cabin man". I couldn't live in a home that didn't have log cabin incorporated into it. Could I? I had a reputation to keep. lol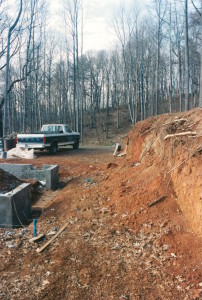 My wife was most understanding, she has tolerated me these many years. I got a kick out of it when she visited the site and walked the newly poured foundation visualizing each room… and then pausing trying to figure out which room this new addition was.
She knew me well. And she knew that it would be best if the man of the house had his cave to retreat to.
This cabin, with it's wonderful stone fireplace would serve us very briefly as a den… but would quickly be converted into my home office, and then, once we bought this new device called a computer, and hooked it up to this thing called the internet, the room became a draw to all family members.
Here's a few photos showing just how little room I had on this steeply slopped piece of land to place this cabin, and how I solved it with a stone retaining wall.
Originally posted 2015-03-25 15:26:51.