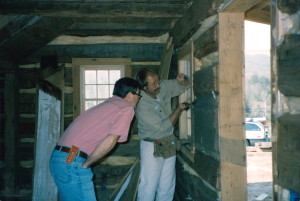 Here's a photo of me.
ok.. I admit it, it's a younger me. 🙂
In this photo I'm demonstrating to my client how to apply the wire mesh lathing that will soon hold the chinking that fills the gaps between the logs.
This client, and his family, pitched in and helped a great deal during the construction of their little cabin. We call that kind of effort "sweat equity".
Sweat equity does more than save money for the client (as if that wasn't enough). It also helps them bound with their home, and it gives them a greater understanding of the amount of work that goes into building a home like this.
I want to encourage all of you… every single one of you… that you too can build your dream cabin. All it takes is two things… the proper knowledge and skill set… and that future cabin (or other dream home) needs to become your top priority… your main focus… your obsession.
Originally posted 2015-05-26 14:10:39.