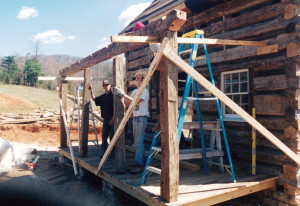 Notice the careful attention to detail found in just this process of assembling four porch posts and the supporting top plate on which the porch rafters will be set into place….
Mortise and tenon joints have been created to connect everything together… decorative chamfered cuts have been made on the ends on the top plate… and carefully cut-out pockets are now ready for the porch rafters to be pegged into place.
Many builders believe that "rustic" is achieved through sloppiness and so they end up with a mess in the end.
Rustic beauty comes through careful material selection, traditional design, attention to detail, talent, and an abundance of time and patience.
Originally posted 2015-05-26 13:15:43.